College football teams can be defined by their choice of helmet.  Following in ESPN's footsteps of ranking the best NFL helmets……………………..
20. Georgia
The Bulldogs' helmet is a perfect example of putting your own spin on something and making it better.  The block 'G' also is on the helmet of the historic Green Bay Packers.
19. BYU
The 'Y' on the helmets represents one of BYU's landmarks, "Y Mountain," which has the large letter looming over the campus.  More than anything, though, it's a representation of BYU football past and present.
18. Arkansas
Let's be honest, there are certain helmets that fit certain schools.  When you see that maniacal boar coming at you off Arkansas' helmet, it just feels right for the Razorbacks.  You think down south, old-time SEC football.
17. Penn State
If you aren't a college football fan, you simply don't get it.  Yes, that's right.  The Penn State helmet is straightforward and clean.  To anyone else, it's the most boring thing you've ever seen.
16. Tennessee
This is the beauty of college football in "Good Old Rocky Top."  The classic orange 'T' fits the program perfectly.  It's not as omnipresent as the "The U" in Miami but, for generations of Tennessee fans, it's a source of pride.
15. Nebraska
This isn't New York City or Los Angeles, it's the nation's heartland.  And the definition of Nebraska is its proud football program, and that's how the red, simplistic 'N' sits on this white background – prominent and proud.
14. Hawaii
When June Jones arrived in 1999, he decided to makeover an already great helmet and it ended in disaster.  But a year later, Hawaii got it right.
13. West Virginia
West Virginia has done a good job of putting a twist on a simple helmet.  Not to be confused with the "Flying V" of Mighty Ducks fame, this helmet has a "Flying WV" introduced by Don Nehlen making each Mountaineer look like he's motoring around the field.
12. Arizona
The Arizona football team always looks strange out there.  It's a basketball school, and their uniforms aren't as identifiable in the college football world.  The school did a good thing, though, by switching up the helmets last season.
11. Clemson
Only certain teams can pull off orange.  But Clemson is literally the only team who can have the famous paw print, the one which is placed prominently on its helmets.  The school had to trademark the paw so that other schools could not copy it.
10. Colorado
Colorado's helmet is a dual threat, a good logo with a classic color scheme.  The black silhouette of a buffalo is ominous and intimidating and the school's letters are placed perfectly.
9. LSU
LSU's helmet history is actually a bit comical.  There have been four revisions over the years and all of them clash a stark yellow and purple. But somehow, it works.
8. Florida State
The tomahawk chop chant is annoying, but the spear's presence on Florida State's helmets is just right.  The gold helmet with garnet and white spear was introduced in Bobby Bowden's first year as coach in 1976.  Bowden just recently retired, but the helmet looks like it will last.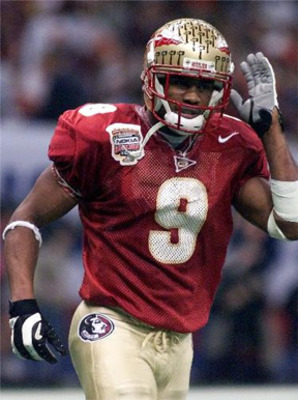 7. Ohio State
You're probably expecting a memorabilia joke here, but I'm above that.  This list is for college football purists, ones who love talking helmets, not selling them.  The Buckeyes have a unique lid.
6. Miami (FL)
"The U" is many things – the name fans and former players refer to the school by, the title of an ESPN documentary about the Hurricanes' heyday and the logo on the side of Miami's helmets.
5. Notre Dame
The school has the legendary "Golden Dome," so it's appropriate that its beloved football team runs around in exquisite gold helmets.  There will always be a positive association.  It's the right call to go without a logo.  Anything else on the helmet would take away from the gold's quiet grace.
4. Alabama
Alabama is one of the most storied programs in college football, and its helmet is part of that lore.  College football is playing for the name on the front of the jersey, but in Tuscaloosa, it's also about earning the number on the side of your helmet.
3. Texas
When you think Texas football, you think Matthew McConaughey.  And burnt orange horns.  Seriously, though, I know the Longhorns have a huge fanbase, most of which never forgets to remind us, "Hook 'Em Horns."  It also wears its special shade of orange prominently.  The helmet, with a pure white background, encapsulates everything that is Texas football.
2. USC
What other colors but garnet cardinal and gold could befit the Men of Troy's helmets?  It's not so much young Hollywood – Lindsay Lohan wouldn't wear it – but classic Tinseltown.
1. Michigan
Just like the University of Michigan, you either love these helmets or hate them.  Mostly love.  And yes, Fritz Crisler just re-used the design he originally came up with at Princeton.  But the winged helmet is so incredibly original and steeped into college football history that it's one of the first things that comes to mind when people think of college football like the "Four Horsemen" and the Heisman Trophy.
The mixture of maize and blue is awesome and they also have a functional purpose (supposedly):   Helping quarterbacks see their receivers down field. Last year the AP also voted them the greatest helmets in college football and Bob Asmussen of the Champaign (IL) News-Gazette remarked, "I'll bet the Wolverines get 10-15 percent of their recruits based on the helmets alone."
What a surprise.  Were you expecting something else on MY website?  I think NOT!